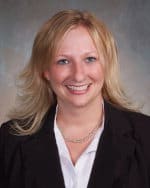 As a sales associate affiliated with CENTURY 21 TheOne, I am here to help you buy or sell a home.
As a sales associate affiliated with CENTURY 21 TheOne, I am here to help you buy or sell a home.
Office Location
438 Route 3 Suite 200
Plattsburgh, NY 12901
Contact Info
Specifications
Languages:
Specialties:
Service Area:
Kenna's Testimonials
Kenna is a great asset to have in your corner when purchasing or selling a home, COVID definitely made things difficult but she always did what she could to accommodate.
Tiffany Whittington- Plattsburgh
24 July 2020, 13:39 PM
Kenna took us through over 40 homes until we found the perfect home. She stood with us during a rocky buying experience. Kenna kept on top of the small details for us and got to the bottom of what was holding up our closing. Having Kenna on our side during this process made going through the unknown a lot easier and made the experience amazing.
David & Bethany White
15 August 2017, 20:37 PM
This was a difficult piece of property to generate interest. Kenna, as always, kept moving forward with it. She was always available to reconsider the price and knowing what was moving in the area. Kenna is untiring in her quest to help you meet your goals in selling. I am 100% happy with her effort. I would recommend Kenna to anyone that wants a knowledgeable, trustworthy, always answers your questions promptly, and really wants to work WITH you! Give her a call. I promise you won't [...]
Terry Murray
10 June 2021, 18:33 PM
Kenna was more than helpful and went above and beyond finding the right house for me. I strongly recommend her.
Zachary, Plattsburgh
30 July 2019, 23:42 PM
Kenna was excellent in providing us with local listings we were interested in and her sense of urgency was paramount! We would definitely use Kenna in the future!!!
Cassidy, Plattsburgh
18 October 2016, 16:53 PM
It was really great having Kenna Felio as our realtor. She was easily available and always very pleasant! I would recommend Kenna to anyone who is in the process of buying or selling. Kenna made it an easy process, was very knowledgeable and helpful.
The Carons, Peru, NY
14 November 2017, 21:37 PM
The choice of Mrs. Felio's versus other brokers was easy. Her lively interest in our house , her energetic and enthusiastic approach in making suggestions in pricing and advise to me as a seller were both appealing and promising. In spite of winter setting in and the obvious limitations due to the Corona Virus outbreak, Mrs. Felio kept her promise to sell our property She had a positive outlook, she was honest, did not minimize or exaggerate difficulties, and was always helpful. I am happy to [...]
Ursula Schin, Ballston Spa,NY
07 August 2020, 12:28 PM
Kenna made the whole process of selling our house less stressful and a total breeze, she was always available and quick to respond to any questions that arose. I knew Kenna always has done a great job but was absolutely astonished that our house had an offer that was accepted by us the same day it was listed!! Can't ask for any better than that!
Tiffany, Plattsburgh NY
21 November 2018, 11:13 AM
Kenna is fantastic at her job and a pleasure to work with! She knows her stuff and this sale was another job well done!
Abby Graves, Plattsburgh
09 April 2016, 14:58 PM
Kenna was absolutely amazing. This was the second time we have purchased a home and it was so much easier this time. The last time we were really dissatisfied with our realtor(s) and had seen 3 before we found our home. Not the case this time. Kenna really listened to our needs and found us homes to look at that fit those requests as well as our budget. Kenna is very exuberant and knowledgeable and her love of what she does clearly shows. She was very accommodating to our schedule and always [...]
Rebecca & Kevin Packwood
28 July 2015, 09:19 AM
Contact
Hi there! How can we help you?
Contact us using the form below or give us a call.
Hi there! How can we help you?
Contact us using the form below or give us a call.