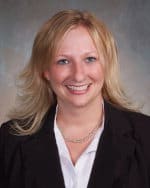 As a sales associate affiliated with CENTURY 21 TheOne, I am here to help you buy or sell a home.
As a sales associate affiliated with CENTURY 21 TheOne, I am here to help you buy or sell a home.
Office Location
438 Route 3 Suite 200
Plattsburgh, NY 12901
Contact Info
Specifications
Languages:
Specialties:
Service Area:
Kenna's Testimonials
Fantastic job! Thank you.
Jeremy S. Morrisonville,NY
11 October 2015, 15:15 PM
We worked with Kenna Felio on three occasions now- we bought our first home with her, sold that home, and she helped us buy our new, forever home. She was referred to us by family, and I am so thankful we chose to work with her! Buying our first house was a long, tedious process. We had gone through three other realtors before finding Kenna. She was patient, listened to our wants and needs, explained all of the processes we were going through, and kept us on track through it all. At the end of [...]
Alyssa- Morrisonville NY
11 August 2021, 12:43 PM
Kenna sold our house in 6 days, excellent job. Kenna was very knowledge and professional in selling our house in Peru. Kenna did an outstanding job selling our house. Kenna is very knowledgeable in what she does. I would recommend Kenna to anyone buying or selling a home. GREAT JOB
Denis and Shannon Mousseau Plattsburgh
12 September 2018, 12:06 PM
Kenna was patient and informative on the sale of our first home and the purchase of our forever home.
Nathan and Tracey Kenyon
13 March 2021, 16:27 PM
Kenna was absolutely amazing. This was the second time we have purchased a home and it was so much easier this time. The last time we were really dissatisfied with our realtor(s) and had seen 3 before we found our home. Not the case this time. Kenna really listened to our needs and found us homes to look at that fit those requests as well as our budget. Kenna is very exuberant and knowledgeable and her love of what she does clearly shows. She was very accommodating to our schedule and always [...]
Rebecca & Kevin Packwood
28 July 2015, 09:19 AM
Thank you Kenna Felio for being patient with us as we progressed through the sale of our home.Kenna made a recommendatiin/ referral for home improvements. Anytime I had a concern, Kenna was quick to return my calls, she answered text messages or emails efficiently. Kenna is friendly, and very personable . It was a pleasure working with you.
Cindy
27 January 2021, 22:23 PM
Kenna was incredible and made this whole experience absolutely incredible and made finding our dream home a reality!!! Kenna is so professional and knowledgable!!
Joe and Bridget Molloy- 49 Winding Brook Peru, NY
12 October 2015, 08:49 AM
Kenna is fantastic agent and stuck with us through some difficult times. She was always there for us and owe her a huge debt.
David B, East Greenbush NY
01 October 2020, 22:03 PM
I would use Kenna Felio as my agent whether she was with Century 21 or not. She is an amazing agent with extensive knowledge. Kenna is top notch. She most definitely goes above and beyond for her clients. I recommend her to everyone I know!!
Christina King, Churubusco NY
08 December 2020, 13:12 PM
Kenna was very informative and knowledgeable of my needs and concerns throughout this emotional process!! Thank you Kenna for all you did and continue to do for others.
Darcy Burnell plattsburgh ny
28 April 2018, 17:17 PM
Contact
Hi there! How can we help you?
Contact us using the form below or give us a call.
Hi there! How can we help you?
Contact us using the form below or give us a call.